---
Wednesday, October 01, 2014

"Like" us on Facebook and get Reunion updates!
20 Year Class Reunion for the Class of 1991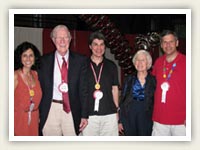 Ithaca, NY, June 9-12, 2011
For the fourth time in four Reunions, we broke the all-time Reunion record for number of returning classmates!

Here's a list of attendees for the 20th Year Class Reunion.
Check back soon to see reunion highlights.
Giving
We're also very, very close to setting more giving records as a class. Our dollar and donor numbers have exceeded our class goals, but just a little bit more and we could set new all-time records with them as well. Please visit our giving pages to see how you can help the class and Cornell. Who knows, it might be your gift that breaks the record.
---
News and Events
Related Sites
Ithaca, NY Weather
Current Conditions
Mostly Cloudy, 60°F
High: 59°F - Low: 41°F
Tomorrow's Forecast
Partly Cloudy.
High: 57°F - Low: 40°F